"Hot Springs of the West"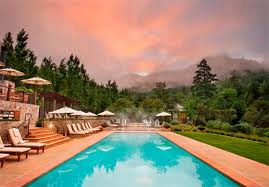 Population: 5,190

Location: Approximately 35 miles north of Napa on Highway 29 or the Silverado Trail. Recreation:Stay busy all day, or just relax with us:

Napa County Fair at the Fairgrounds every fourth of July weekend

Calistoga Ranch Club Campground (swim, fish, hike, camp)

Bothe State Park: enjoy camping, hiking and horseback riding

Pioneer Park: picnic tables, playground and BBQ

Hot air balloon rides

Best known for its geothermal hot springs and mineral waters, Calistoga is a famed spa haven. Spas and mud baths are available at Calistoga Village Inn and Spa, Dr. Wilkinson's Hot Springs, Mountain View Spa and Hotel, Indian Springs Resort, and many more.
Points of interest:
Old Faithful Geyser of California, one of three famous Old Faithful Geysers, erupts here regularly. Also be sure to visit the Calistoga Depot built in 1868, Mt. St. Helena for hiking, the Petrified Forest, the Sharpsteen Museum and Sam Brannon's cottage.
Shopping:
Small town atmosphere offers artistic downtown shops and restaurants such as The Artful Eye, Bella Tootsie, Calistoga Pottery and One Song, just to name a few. Find out more about charming Calistoga from the Calistoga Chamber of Commerce. Or, log onto www.Calistogafun.com for more fun things to do.
The climate is generally mild. Summer temperatures range from 50 to 98 degrees, winter temperatures range from 37 to 69 degrees. Average rainfall is 34 inches per year.
Calistoga is a small, unpretentious city at the northern end of the Napa Valley. Know for its spas, mineral water hot springs, mud baths, wineries, and natural wonders, Calistoga has retained the feel of the "old" Napa Valley and its Western roots.
In 1859, Samuel Brannan, a wealthy San Francisco executive, realized the area's hot springs and natural mineral hot water geysers could be the beginnings of a perfect resort location. As folklore has it, Brannan was drinking and dining with friends one evening, when he declared he would make the area "the Saratoga of California!" but it came out, "the Calistoga of Sarafornia!" Hence the town's name. Brannan also started planting grapevines in the fertile soil. This early heritage is reflected in the town's 30 wineries and restored historic buildings, which are now bed and breakfast Inns, fine restaurants, gift boutiques, art galleries, and a western museum. Its downtown streets, shaded by mature trees, invite leisurely strolling.
Visitors still escape to Calistoga for its luxurious spas, hot springs, and soothing mud baths made with steaming mineral water from a geothermal underground lake. That same water feeds the Old Faithful Geyser of California, which erupts about every 40 minutes. The town offers the quiet beauty of the Petrified Forest, where the tallest petrified trees in the world were first discovered in the 1870's. Three California state parks are also located with five miles of downtown.
The Napa Valley Mustard Festival's two-month season celebrates the region's agricultural and cultural riches, and Calistoga plays a part in many of the activities. Other ongoing events include tours and picnics at the town's wineries, wine tasting, Victorian stained glass shows, blues concerts, farmers' and chefs' markets. After enjoying Calistoga's museums and galleries, which showcase California's history and the works of regional artists, one can head outdoors for a ballon ride over California's finest wineries.