The Food, the Wine and Fine Dining.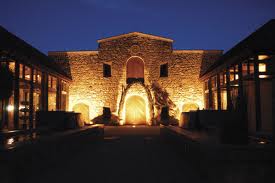 The Climate is moderate and smog-free with summer temperatures ranging from 52 to 98 degrees, winter temperatures from 37 to 69 degrees. Average rainfall is 34 inches per year, the majority occuring from November to March.
The population in 2008: 6006.
Location: 25 miles north of Napa on Highway 29 on the Silverado Trail.
Around Town: St. Helena offers many activities. Visit us for:
Bicycle Tours
Wine Tasting
Some of the best restaurants in the valley
Farmers market on Friday mornings from May to September
Robert Mondavi summer concerts at Mondavi Winery
Napa Valley Wine Auction, held at Meadowood Resort every year
And More!
The city most identified with the "Napa Valley Lifestyle" began as a frontier settlement in 1834. Rising high against St. Helena's western sky is Spring Mountain. These Mayacamas hillsides rising 2000 feet have attracted grape growers, including the Beringer Brothers, since the 1870's. Today growers and winemakers use the region's unique combination of fog, thin soils and sunlight to create wines of abundant flavor, complexity and elegance.
St. Helena today is a favorite spot to wander the downtown's three blocks of boutique shopping at clothing and home furnishings stores and to enjoy great dining at its celebrated restaurants, cafes and bakeries. Not surprisingly, the city has appeared in numerous films in the role of picturesque small town America.
St. Helena is the home of the renowned Culinary Istitute of America at Greystone. Since 1995, the CIA at Greystone has provided continuing education opportunitites and career development programs for food, wine and hospitality.
The people of St.Helena appear equally comfortable displaying just-folks charm at events such as its annual Pet Parade where costumed dogs, cats and owners fill the streets, as it does hosting the annual Napa Valley Wine Auction at nearby Meadowood Napa Valley, where millions of dollars are raised at the most successful wine charity event in the world.
Shopping
Main street is filled with charming shops such as Vanderbilts, Nature Etc., Marios Men's Clothing, The Model Bakery, Shoe Candy and more. Wonderful restaurants, such as Tra Vigne, Martini House and Cindi's Backstreet Kitchen Line the streets.
Points of Interest
Learn more about our favorite beverage at the Napa Valley Wine Library(located within the St. Helena Library).
Visit the Silverado Museum, located at 1490 Library Lane. The museum is dedicated to Robert Louis Stevenson, who created memorable characters and scenes in Treasure Island, Kidnapped, Dr. Jekyll and Mr. Hyde and many other stories.
See the beauty and history of our area at the historic Bale Grist Mill, Bothe-Napa Valley State Park and the Robert L. Sevenson State Park. The main telephone number for all 3 is 707-942-4575